Your Heist was successful, and you handed off the Nano Virus, but Dr. Snow has turned you in. She has double crossed you, and now you are locked up in gen-pop at Rickers Island, one of the most notorious prisons in the United States.
You have spent months looking for any way out, but you quickly realize that it is going to take years to set up a foolproof prison break. Only one group has ever broke out and that was 16 years ago, in the now abandoned end of the Prison.
One day you get a coded message through morse code in the lights and it is from N. Sypher. He is altering some documents to have you moved into the abandoned cells of the previous inmates that managed to break out. He says he can buy you an hour but, that is it. This is your one and only chance to break out so you can find your revenge for the backstabbing Dr. Snow.
Rush To Escape
2185 E Windmill Ln
Suite 300
Las Vegas, NV 89123
The only woman to have gotten the best of him. Maybe he let her, only he knows.
Irene Adler, Adventurer, Criminal, Friend/ Nemesis of Sherlock, she has once again gotten the best of him. There is a letter addressed to him, that she made off with. What is on it, no one knows for sure, but Sherlock is sure she took it.
He is meeting her for dinner at The Newman's Pie Room on Abby Mew and he should be able to distract her for just 60 minutes.
Our friend, the Great Sherlock Holmes, has asked for you to go the house of Irene Adler, and find this stolen letter. Be warned, she is unlike any woman you have seen before, and I am sure she has some tricks up her sleeve.
The Game is Afoot!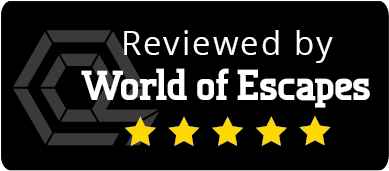 Beginner to Intermediate Room
Intermediate to Advanced Room
You have been hired by Dr. Olivia Snow, to put a team together to steal a recently developed nano virus. This virus has been placed in the vault of Mason Industries, which you know to be a Free Mason company with their own sinister agenda.
The ultimate use of this Virus is unknown,. but your client doesn't want you to take it all, but just one tube. What she is going to do with it, you don't really care, but maybe you should.
The vault that you are to break into is highly secure, and no one has penetrated its security. Your first hirer is one of the best hackers you know, N. Sypher.
Your going in a little blind, but hey that is your specialty. You trust N. Sypher to be your eyes and ears, while you and your team deal with the unique challenges in this unbreakable vault.