You have been wrongly accused!
There is a riot in the prison, and for some reason the Warden has moved you away from the other prisoners, to the abandoned end of the prison. This end of the prison has been empty since 4 inmates disappeared from their cells sixteen years ago.
There are several theories of what has happened to those inmates. Some inmates believe that the gaurds took them and disposed of their bodies. Some say they escaped and covered their tracks so well that that the gaurds never found out how. The guards say the most bizarre of them all. They say this end of the prison is haunted. Whatever happened, the cells haven't been touched since they disappeared.
Can you escape!
Rush To Escape
2185 E Windmill Ln
Suite 300
Las Vegas, NV 89123
The only woman to have gotten the best of him. Maybe he let her, only he knows.
Irene Adler, Adventurer, Criminal, Friend/ Nemesis of Sherlock, she has once again gotten the best of him. There is a letter addressed to him, that she made off with. What is on it, no one knows for sure, but Sherlock is sure she took it.
He is meeting her for dinner at The Newman's Pie Room on Abby Mew and he should be able to distract her for just 60 minutes.
Our friend, the Great Sherlock Holmes, has asked for you to go the house of Irene Adler, and find this stolen letter. Be warned, she is unlike any woman you have seen before, and I am sure she has some tricks up her sleeve.
The Game is Afoot!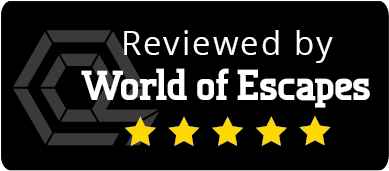 Enter "holiday5" for $5.00 off!